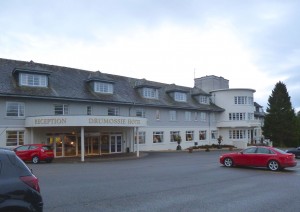 This is the second time I have stayed here, but this time it was a very last-minute decision.  I was originally booked more centrally to the city, in The Penta, but that turned out to be a complete disaster, and I found myself here after a brief stay in the Holiday Inn Express.
The New Drumossie reminds me a little of the hotel in The Shining.  On both occasions I have stayed, the large hotel appears to be under-occupied and I expect to see a little psychic boy cycling his trike around the corridors, whilst his deranged father goes around destroying things.
The huge lounge full of sofas and lamps provides a relaxing area for you to enjoy a drink or bar snack and is lovely and clean, if a little quiet.
I chose to have room service on both nights I stayed on this occasion, but unfortunately was left disappointed by both offerings.  The very average beef burger, coming in at £14.00 could only possibly have been good value if it actually tasted of anything, but coupled with the £5.00 tray tax charge applied, made it an eye-watering £19.00, which left me more with a bitter taste than the one it actually lacked. The second night's serving of Club Sandwich was slightly even more disappointing, as it wasn't even hot and failed to offer anything other than….just bland.
It's always nice to have complimentary water available in the room, but preferably not stale water left in the kettle, stale from who knows how long the kettle was last used?
The cleanliness in the bathroom scored highly, as too did the large fluffy towels and separate shower, but sadly the room was less clean, with dust being very noticeable, to me, if not to the housekeeper!
However, saving the best 'till last, …..the WiFi!  With rock solid download stats averaging out at 15.98 mbps, it scores really highly and makes The New Drumossie a destination I simply can't add to the growing list of Inverness hotels I refuse to revisit, (even if the room service is expensive and poor)!