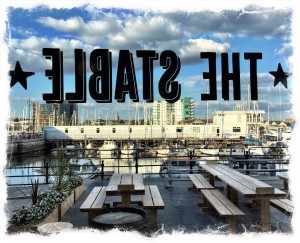 Conveniently located, (if you're in the Sutton Harbour area of Plymouth), this restaurant oozed enough contemporary vibe that it could be spotted from the other side of the harbour.
As the sun had made a rare appearance, the dining area was utilising the floor-to-ceiling bifold doors offering those seated inside the restaurant an alfresco-like feel, which my colleague and I chose to enjoy.  Seating at long tables on benches will inevitably mean that during busier times you're likely to be sharing the table with others, which for me is certainly not a problem.  I have really enjoyed visits to other restaurants like Belgos and Wagamama which have similar seating, so this is certainly not a criticism.
Outside there's plenty of decking over two floors sporting seating for drinkers and diners alike.  Situated literally on the harbour wall the views outside are a pleasant blend of historic buildings, sailing vessels bobbing gently in the water and a flow of commercial fishing boats off-loading their catch of the day.
Proudly majoring on Pizza, Pies and Cider, The Stable is able to concentrate on a modest menu, but one with plenty enough options to guarantee a return visit.
Following Boris the Boar's instruction, (painted below a trophy of said beast – a mounted boar's head), we were encouraged to order food and drinks at the bar.  Fortunately, waiting staff were able to take orders for additional items from the table, as getting up to queue at a bar continually, becomes somewhat tedious.
Unfortunately, (for varied review writing), my colleague and I had the same main course and dessert.  We opened straight into a main course of Blazing Saddle Pizza, which despite its name and some self-pimping with chilli oil, its spiciness was only modest.  Nevertheless it was delicious, with the thinnest of crust topped with amongst other things, pulled beef, chilli and sour cream.  We both thoroughly enjoyed it.
Dessert of, the same warm pizza base topped with lemon meringue ingredients, made for an original and equally as tasty experience as the main course – a very pleasant surprise.
The staff were all pleasant and efficient and like I mentioned earlier were quite happy to take orders from you once seated.  The cider selection is varied, but if you drink the Thatcher's Katy, be aware, as it is as powerful as a horse's kick in the plums, with a similar lingering pain.
Prices were perhaps on the high side of average, but what struck me, (other than the aforementioned horse), was the very over-priced wines.  My yardstick of £20 – £23 for a New Zealand Sauvignon Blanc was snapped and destroyed by their £30 version, which I think is just profiteering and unnecessary.
Ignore the sizzling hot price of the NSZB and concentrate on the cool, contemporary atmosphere swamped with the very pleasant surroundings and be sure to try their great food instead.