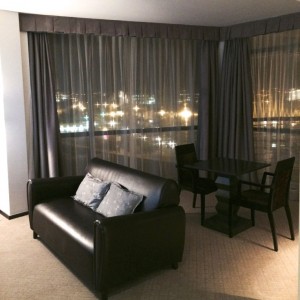 I chose to stay here partly due to it being conveniently located to my workplace that week, but also because the last time I visited Limerick, I stayed at the Radisson Blu, and it was rubbish. (Read that review here).
I booked 3 nights, staying in December 2013 and managed to get a "double suite" for a very competitive price, which included breakfast too. If travelling by car, plan to arrive early to ensure you can get in the modest car park, as I'm not sure where else you might park.
The hotel is a large and modern one, and with a name like "Absolute", it kind of cries out for you to guess the missing adjective. The most accurate name I could offer would be, "Absolute Shite WiFi"! I'd almost prefer to have NO WiFi, to be duped into staying somewhere that purports to have it, but doesn't.
Based in the UK, travelling to Eire is like taking a trip through a magical wardrobe, into a land like no other you have ever before experienced. This is true in many ways in Ireland, but more specifically, puts me into a Data Roaming Zone, so WiFi shifts from being a pre-requisite, to being an "Absolute Necessity"!
My best Speedtest results maxed out at a measly 1.33 Mbps, which came and went, providing more frustration than a lifetime of unsolicited PPI messages.
The room was large and on the whole very clean. The 12" long black hair on the floor of the bathroom and the unidentified fluff on one of my towels were the two flies in the ointment. With floor to ceiling windows in the suite, overlooking the city and the adjacent river at night offered quite a luxurious feel to the room.
It seems though, that despite having some suite-like features, others were sadly missing. The toilet roll, (which wouldn't normally ever merit a mention), was so cheap and nasty you were forced to double or triple it up to create a 4 or 6 ply offering, just enough to hopefully prevent you from inadvertently probing yourself, in a very intimate manner.
There was no mini bar, no complimentary water, no WiFi, (did I mention that?), so your buck offered not quite so much bang as one might expect. Neither of the 2 TV's were able to offer anything other than a handful of Irish channels, meaning I couldn't catch up on my habitual, yet eclectic televisual feast of Emmerdale and Champions League Football.
On a slightly more positive note, the bed was big and comfy, I successfully ordered food that was not on the menu and I also liked the key operated lift – which hopefully keeps the plebs from trying to peer through your spyhole, (that's not a euphemism).
Breakfast was buffet style, but was above average and service was good too.
At checkout, I was attended to by the Assistant Food & Beverage Manager, who made the fatal error of failing to ask me whether I enjoyed my stay. Parting with a few hundred Euro, after 3 nights stay, I believe the least a hotel could manage, is to enquire whether I enjoyed the experience.
Despite the apathetic approach to customer service, being the centre of the Bermuda Triangle of WiFi and providing toilet paper that is as delicate as gold leaf, my lasting memory will be of the "New York / Paris / Rome-style" clocks behind reception. It's a nice idea, if a little unnecessary for Limerick, hardly renown as being a centre of international commerce), but the funniest thing was they were all showing the wrong time! Priceless!