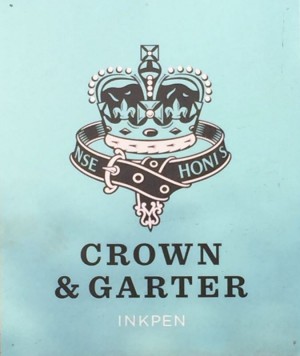 Booked just a few days before my stay, I'll be honest, The Crown & Garter wasn't my first choice of place to stay.  I booked it on the strength of the website alone, which certainly tempted me to stay a little further away from my place of work than I usually prefer.
Arriving during the hours of daylight, following a journey through rural Berkshire, my first impressions were all very good.  There has certainly been some considerable cash splashed during what I later discovered to be their recent renovations culminating in the re-opening in Autumn 2014.
Rather strangely, I was asked to pay for my room upon arrival, which kind of devalued the experience before it had even begun.  My AMEX card had to remain in my wallet though, as it wasn't accepted.
Escorted along the wooden decked walkway that surrounds the landscaped courtyard, I arrived at room 7.  I was very pleasantly surprised by the standards throughout the room, which continued through to the bathroom.  The presence of a wooden floor initially disappointed, but not only was it a quality solid oak floor, it was beautifully clean – a far cry from the dusty, hairy laminated ones that has caused my dislike of them.
The old adage of "size isn't everything" is alive and well at The Crown & Garter, as although the room 'wasn't the largest', it was really nicely presented.  The large bed dominated the room, which had lovely pillows and bedding and provided a very comfortable place to sleep.
With a modern walk-in shower / wet room, quality fittings and finish, the theme of clean, quality and modern extended into the bathroom.  Huge, fluffy white towels and high-end complimentary toiletries also demonstrated that the creature comforts were not ignored.  This is somewhere I'd be happy to bring my wife I thought, a sentiment too rarely imagined during my business travel.
The bar and restaurant area were also beautifully presented.  With several fabulous touches the Interior Designer had certainly earned their fee.  From porcupine mirrors, (Quills/Inkpen?) to trendy lighting, a feature open fireplace and leather armchairs, the former country pub has been transformed to a tastefully kitted-out hotel and restaurant.  All that could now spoil the party would be the service and the food, but I'm delighted to report during my one night stay, this wasn't an issue.
My only slightly negative observations are that the menu was somewhat limited and the wine list was dominated by french wine and the WiFi was pretty poor, (but free).
Lovely bread, from the on site bakery was served with my meal, which in the absence of anyone checking at an appropriate moment, happened to be good.  I did order some fries that never materialised, but they didn't materialise on the bill either, so no harm done there.
I had to leave before breakfast was normally served, but I was kindly served tea and toast at 7am, which was yet another nice touch.  As I drove away I was disappointed my stay was such a short one, but given the nature of my work, it's just a matter of time before I'll be back in the area again.  The Crown and Garter is one of those places I'd be happy to travel that bit further than normal, to revisit.