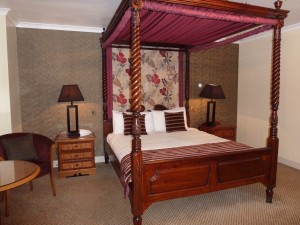 Unfortunately The Royal Chace and I got off on the wrong foot almost immediately. Rhiannon who checked me in was expecting full payment upfront, explaining that it was hotel policy. I went on to explain my policy of not paying for hotel rooms that I have not yet stayed in, which prompted Rhiannon to have a long chat with her supervisor.
Thankfully, common sense prevailed and their ludicrous policy was waived on this occasion. Unfortunately, I had to have another pow-wow with Rhiannon moments later, as after arriving in my room I discovered an adjoining door prompting my immediate departure. Read why I hate adjoining doors by clicking here later.
It appears that Shift Leader Rhiannon needs approval to blink or breathe as she's unable to perform the most basic of functions without asking permission. At your next performance review Rhiannon, I'd establish some boundaries and think big. Maybe then you could make some basic decisions, without making the customer think whatever they have asked for is "a big deal'?!
With no other 'Executive Doubles' (without adjoining doors) available, I was upgraded to a 'Premier Four Poster' at no extra charge. I say it was an "upgrade" but the room was smaller than the previous one, and four-poster beds just don't do it for me. They represent nothing but dust and spider traps, neither of which I like, so upgrade was a matter of opinion.
Not only was the four-poster bed from the 16th century, but I'm guessing the mattress was the original one fitted back then too, as it had clearly seen many centuries of action and no longer offered a comfortable resting place for a slightly overweight business traveller.
The room had good lighting options and was exceptionally clean, as too was the small bathroom. The whirlpool bath, rather than posing as an additional feature, merely represented a health hazard to me. If poorly maintained, I imagine these baths to be nothing but conduits of nasty diseases, none of which I can spell or wish to contract!
Despite the higher than (my) average room rate, there wasn't any free water (in either room). Water in the room, is rapidly becoming one of my pre-requisites as much like bottled beer, I simply believe the product to be of better quality if it comes out of a bottle. I'm sure there are a number of exceptions to this rule, but I'm equally sure they won't include water from hotel taps and draught beer from hotel bars.
With a gap under the door a baby elephant could squeeze under, I was forced to position a rolled up towel at the base of the door, to hopefully obtain some additional privacy. Old buildings are great characterful places, but even an apprentice joiner could easily solve this little issue.
The Premier Four Poster room I occupied for 3 nights didn't have any air-conditioning, but fortunately the windows were able to be opened, in order to help regulate the room temperature.
The Wi-Fi was free, decent, easy to use and performed consistently throughout my visit. Full marks here – this is what other hotels need to aim for! Other positives were the large, comfortable lounge/bar area and all the serving staff my colleague and I encountered were very good. One barman insisted that he check the cellar for something I had enquired about that was not on the wine list, and although the search was unsuccessful, I appreciated the effort he made on my behalf.
We only ate in the Bistro (located on the first floor), avoiding the finer dining option downstairs. The food was pretty average to be fair. It was good value and served quickly, but there are a couple of observations that need to be mentioned. Staff need to get their heads together and come up with a system, so that three of them don't all ask the customer how the food is, within 5 minutes of each other. Also, my gammon steak tasted more like steak than gammon, probably having been cooked on the same griddle just after a beef steak?
The bill presented to me after my 3 night stay has got to be the most detailed inventory of a hotel stay I have ever received. There's certainly no room for doubt where your £500 has gone! In fact it read a little like a Beachboys' Song Lyric.. "Bar, Bar, Bar… Bar, Bar, Bar, Restaurant, Service Charge", (except with much greater detail of the items purchased)!
Be careful if you visit The Royal Chace in a low sports car as the driveway leading to/from the main road is very uneven and could really do with some attention. The car park was free and had plenty of parking spaces for guests, which as the hotel is within the M25, is becoming less common these days.
In summary then, this hotel has proved to score above average, largely due to the service (except Rhiannon), the robust WiFi and that it was spotlessly clean. I wouldn't have a problem returning, but I still won't be paying upon arrival!