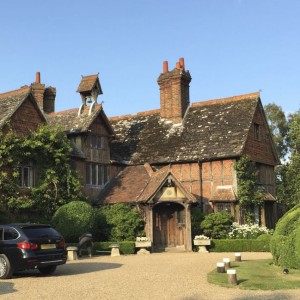 The Langshott Manor is a highly accredited, beautiful old hotel, oozing bucket-loads of charm and character. Arriving via a gravelled driveway, lined with manicured hedges, first impressions are excellent. With 'chocolate box' style appearance, you might be forgiven for thinking you've arrived 'on location' of an Agatha Christie film.
I booked this hotel online less than 24 hours before my arrival, and only noticed once my booking was complete, that my credit card had already been charged £50.00. Reading the terms and conditions, it turns out all room only bookings are charged a Non-refundable £50 deposit, which is far from user-friendly and although present, hidden in the small print, this is an exceptional policy and one you may wish to consider when booking?
I was very professionally checked-in, and equally as professionally shown to my room, 'Lingfield', which I might add was considerably more expensive than I would usually book, but the short notice and poor availability elsewhere considerably restricted my options. Access to Lingfield is via the gardens, which are beautifully kept and provide a welcome alternative to the surroundings most hotels offer.
When travelling alone, the room never has to be massive to meet my requirements, and this room was modest in size and nicely decorated. My eyes were immediately drawn to some stains on the throw at the foot of the bed, and a long dark hair on the white duvet cover. It's at this point a closer inspection becomes necessary, which unfortunately revealed a significant quantity of similarly long, dark hairs, all located on the bathroom floor and cobwebs in the corner of the room.
The size, decor and price of a room are all variables I can usually entertain, but lack of cleanliness is one feature that I will never regard as a variable. Whether it be a city centre budget room, with more through traffic than Newbury, or an expensive, secluded country pile, there should be at least one given certainty, which is the complete removal of evidence of any previous occupant.
The kettle was last tested for electrical safety 4 years ago, which is clearly more than just an oversight and one that now needs addressing urgently.
There are a few redeeming features of the hotel, which I discovered in the following order. WiFi was excellent, speed and availability were robust throughout the hotel, including in Lingfield, (located a short distance from the main building). With average download speed test results, just missing out on double figures, the WiFi performed brilliantly throughout my one night stay.
Deciding to eat less formally, in the lounge/bar area, than the formal restaurant, I was very impressed with the relaxed yet first class style of the service, particularly by whom I assume was the restaurant manager. The ploughman's I ordered was very tasty, even if the portions of cheese were a little skimpy. Reading the menu and wine list clearly showed prices to be quite a bit higher than average, with a couple of yardstick measures of Burger & a bottle of New Zealand Sauvignon Blanc to be £18.95 & £38.00 respectively. At £56.95 for this simple combination, I'd argue this is about 35% above average costing.
Returning to my room after dinner, it had been 'turned-down', by Krystyna, who had also left a note with some useful information for the morning. It's just a shame the turn down service didn't include removing the tod of black hairs from the bathroom floor.
Breakfast, served in the dining room (accessed by a corridor with a dirty carpet), was lovely. There were a number of options that are not commonly available, including an omelette, which is what I chose. Service begins at 7am, which as a business traveller, I find very helpful. Unfortunately, I didn't have time to breakfast more leisurely, or walk around the lovely gardens, which if travelling for pleasure, you should certainly take time to do.
Unfortunately, the positives of the charming setting, good food, service and great WiFi, were all overshadowed by the OTT pricing and shameful lack of cleanliness and maintenance.