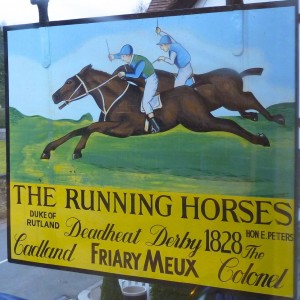 I couldn't run to The Running Horses fast enough, as I made a premature departure of Selsdon Park Hotel.  With a room rate negotiated down from their standard rates, (presumably due to booking the day prior to arrival), the rates between the two hotels were negligible.  However, there was a chasm of difference between the two, with The Running Horses winning by several furlongs.
I was escorted to my lovely room, 'Epsom', which exuded the age and charm of the historic building.  Exposed beams, a few creaky floorboards and fireplace all complimented the charm, the only drawback of this, being the humongous gap under the door which was almost big enough for Frankie Dettori to walk under without ducking.  Strangely, the heater was without a plug, so a portable heater was offered and brought to the room.
The feature bed featured luxurious bedding and was a most comfortable place to rest.  Everything was spotlessly clean, which included the beautiful bathroom, something many establishments appear to struggle with it seems.  The bathroom was lovely, tastefully decorated, with a rainfall shower over roll top bath, providing a blend of contemporary with period styles.
With a bar full of locals and dogs basking before the huge inglenook fireplace, I immediately felt relaxed and the anonymous Selsdon Park was soon a memory that faded as rapidly as my mood chilled.
The menu was a good read, offering a variety of options I'd have been happy to order, but top-end prices were topped off with an automatic (yet discretionary) 12.5% service charge, making the "pub grub" a little overpriced, but enjoyable all the same.  Service was good, but I always prefer to decide for myself whether a tip is necessary. What's more, it's questionable how much of an automated charge is filtered through to the staff themselves, or is just an easy way to maximise revenue?
My travels are heavily focused by my business needs and I fear some of these 'pubs with rooms' sadly don't cater for the business traveller.  For instance, the 7:15 am breakfast I negotiated the night before didn't materialise, and even way past the "official" breakfast time of 7:30 am, the dining room was like the deck of the Marie Celeste.
Be aware of restrictive cancellation policies too, but as I booked the day before I was to arrive, I didn't bother to check this, but you might like to?
Breakfast on the second morning was much better, but there wasn't anything laid out for the guest to browse and choose from.  I was just happy to see someone, and my simple needs of tea, toast and porridge were met with ease.  The orange juice poured straight from carton to glass was not in-keeping with the image that's trying to be portrayed here, I'm sure.
My biggest disappointment though that first evening, wasn't that my team Manchester City were unceremoniously dumped out of The Champions League, it was the fact that when viewing it online via SkyGo, the incessant buffering was more frequent and incredibly frustrating than Messi's numerous nutmegs and blinding passes.
With WiFi fit only for minimal demands, streaming was too much for it to handle, much like Barcelona were for City that night too!
With everything considered, The Running Horses scores above average and when I'm next in the area, I'll be sure to check prices and availability, (but not when I need to stream a match)!