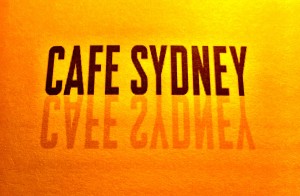 I guess there's only a handful of occasions that you can be blown away by any one experience.  It's like watching an awesome film for the second time, the event is just never as good as the first.  If you go somewhere special often, its lustre will surely begin to fade, and that feeling you first encountered can never be recreated.
Visiting Café Sydney provided my wife and I with one of those life-long lasting memories of a fantastic experience, and because it can only be found on the other side of the earth from us, it's not one that we'll spoil with repetition.
Part of the mystique is the restaurant's location.  With a name as it has, you might expect it to a greasy spoon on a street corner, serving sandwiches and coffee, when in reality, it's a top class city destination, 'hidden' on the 5th (top) floor, of Customs House overlooking Sydney's world-famous Circular Quay and harbour.
To enjoy the best table, with the very best views of Sydney harbour you really need to book ahead.  I did this by email several weeks before our visit and my enquiry was dealt with very efficiently, including a call in the morning of the day of our visit, to check we were still coming.
When I read others' reviews of places, I'm careful to filter out all the overly biased ones.  The ones the bride leaves for the venue of her wedding day, the ones all her relatives leave for the same day and similar reviews so heavily laced with emotion and occasion that nothing could ever prevent them from leaving anything other than a brilliant review.  So, I'll be sure not to be too heavily influenced by the romance, sense of occasion, jaw-dropping beauty of the view, all of which were at play during this visit.
Initially seated at the bar whilst we waited for our table to become free, we ordered a couple of their signature cocktails and were soon very friendlily (use of first name) escorted to our table.  It was during this short walk the sheer magnificence of the view became evident.  With the restaurant moodily lit, the brilliance of the illuminated harbour bridge and splendour of Luna Park, were enhanced.
Some tables are located on the balcony, (with heaters, necessary because of the nip in the spring air), the rest inside, yet still experience the outdoor feel, given the fold-away doors/windows being deployed.
We ordered some NZSB from the extensive, and a little pricey, wine list, and began to explore the menu.  There were numerous options we could both happily have selected, from what is essentially not a massive list.  However, I think it's always better to do a few things well than many things done less-so well!  I chose Carpaccio and my wife ordered half a dozen oysters.  Never having tried oysters before, I figured that being in such a 'classy joint', perhaps now was a good time to start? Well, they were wonderful and during the next three weeks we were travelling I bravely ordered oysters on a number of occasions – becoming a true convert.  If they ever offer them down my local, I might not be so keen to order them, perhaps preferring to.. "if you've tried the best, forget the rest".
For main course my wife ordered the Barramundi – quite possibly due to having heard me rave about Barramundi being a previous "dish of a lifetime" which I enjoyed during my last visit to Australia, some 25 years ago.  I went for a special of a 450g Rib Eye, that apparently required a "healthy appetite", which fortunately, I was packing!  The $75 price tag was more of an invitation than a hindrance – how dare somewhere charge as much for 'a weekly shop' as for one cut of meat? How bloody good must it be??!!
Both mains were polished with consummate ease, even the super-size steak, but dessert became a necessary casualty.  Rather than leave or end the indulgence with 'just a coffee', we opted to round off the meal with a dessert cocktail.  Not normally prone to exaggeration, and I write with the benefit of the passing of time and the fading of emotion, I can honestly say my Himalayan-Salted Caramel Martini has simply got to be the very best thing I have ever allowed to pass my lips.  A return trip of many thousands of pounds and a whole day spent in the air, has almost got to be a small price to pay to repeat the experience.  I kid-you-not, you have got to dine and drink here before you draw your last breath!
As previously mentioned, set aside from your thoughts the setting, the moment, the occasion, my assessment of this experience has got to be the very best dining experience I have ever enjoyed, and if not, it is certainly the very best I can remember!  Can you honestly remember what you consider to be the best ever meal you enjoyed?  I have a few contenders, not less the Alice Springs barramundi, but this one, really has to top the lot.
The cost of such a mind-blowing dinner?  We enjoyed every morsel, every drop for not as much as you might imagine and we were delighted with the value for money.  Unfortunately though, we'll have to factor in the cost of return flights to repeat the experience, which might make it a trip to save for a very special occasion?!
Thank you Cafe Sydney! We bloody loved it!