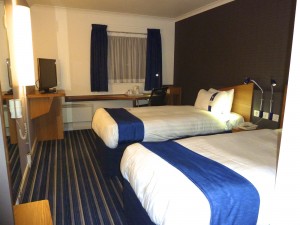 Having just walked out of the disgusting Penta Hotel, Inverness, I once again found myself in the Capital of The Highlands without a bed for the night.  My football team were playing an important game that night too, so I didn't have the luxury of time to research my options, [and risk missing the game], so I just turned up at reception, assuming they'd be able to accommodate me.
Given it was a wintry midweek evening in February, my assumption was rewarded with an available stable for the night, which was pretty good value for money too.  Unfortunately, the good value for money, didn't extend to the chargeable WiFi at fiver a night, (unless you want to spend ages cursing the pointless free "service" on offer).  When will it always be free??
Room 131 was clean and soon warmed up, making it an acceptable place for a stranded blogger to rest his weary head after a very long journey that day.  Holiday Inn Expresses are very comparable to Premier Inns and certainly have a well-earned place in the market.  Just be aware of certain fees applicable, should you choose to leave early – check out my review of another HIE, which details the charge: HIE Chingford.
Breakfast is served early and offers hot and cold options, more than adequate to get you quickly and happily on your way.  I'll certainly give this hotel another go, providing I'm staying just one, (maybe two nights), but feel it lacks a little something, if your stay is any longer.  For your information, I moved from here to the New Drumossie, to conclude this latest trip to the beautiful Inverness.