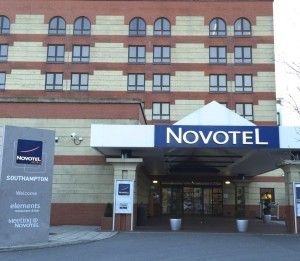 I've not stayed in Southampton for years, so when it came around to booking a return trip, I called upon my mental hotel database for inspiration of where to stay.  Banked in the database was the Grand Harbour Hotel and the Novotel, the former being too expensive on this occasion, so the latter just about won favour this time around.
Located a stone's throw from the shore the Novotel offered a blend of convenience and value for money that proved enough to secure my business.  There were two other Accor owned establishments within the same complex, (all sharing the same busy car park), but both were a little too far down the accommodation food chain than I prefer to explore.
With a funkily modern reception area and a warm efficient welcome my first impressions were good ones.  I know Novotels to be on a par similar to that of a Holiday Inn Express, so my expectations were suitably managed.  My room was in keeping with how I remembered it to be, just like last time all those years ago, with maybe a touch of modernisation under its belt.
Everything, with the exception of the WiFi was fine.  With hugely disappointing download stats of 0.46 mbps, it's easy to give a service like this away for free, especially when you actively promote an enhanced service at £9.95 for 24 hours, which is supposedly 5 times faster.  As it happens, at the time I tested both networks, I actually found the chargeable one to be something like 19 times better than the free one, (8.71 mbps) but that's hardly difficult given the pathetic benchmark it sets.
I tweeted Accor Hotels, expressing my disbelief at the cost of the premium service, which resulted in 2 nights enhanced WiFi being provided free of charge.  The terrible free offering coupled with the ridiculous cost of a useable service will make me avoid staying in any Novotel again, until common sense prevails.
Coupled with the WiFi charges, overnight parking fees and room service tray charges, the already average value for money was being eroded at every turn.  The convenient location, cleanliness, (room service food) and breakfasts were all pretty good, but all these positives have sadly been overshadowed by the additional charges. I'll look to stay elsewhere next time.