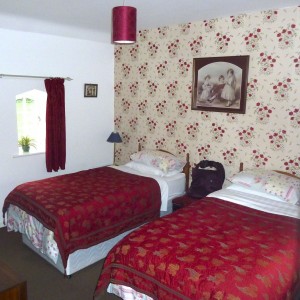 I decided to stay in an apartment as a change to my normal routine.  These properties are normally reserved by holiday-makers I guess, which makes them a completely different entity to staying in a hotel, something I was mindful of before I booked it.
I have used service apartments previously elsewhere in the country, normally in city centres or in holiday hotspots.  Immediate payment upfront is one indicator of them not being suited to business travellers, and they offer precious little in the way of a cancellation policy, so if your plans change at the last minute you will likely lose all that you have paid.  At Chilton they also wield a threat of a £50 non-refundable cleaning deposit, so throughout my three night stay I was ultra cautious not to fall foul of this and make an already expensive option, that bit more expensive.  Numerous signs dotted around the property were an ever-present and unwelcome reminder of this.
As it turned out cleanliness was not fantastic when I arrived, so the irony of the cleaning deposit kind of made me smile to myself.  I wonder if the previous occupants left their deposit along with these long black hairs, which were found on a table in the lounge?
The property I had originally booked was adjacent to a previously let apartment which contained by all accounts "a young screaming child", so Sheila, the property manager said I had been moved to a cottage which should be quieter for me.  I am not sure what this suggests about the privacy of the other cottages or apartments? The move however was clearly a thoughtful gesture on behalf of Sheila.
My twin bedded room was quite pleasantly decorated although with some cheap car boot quality pictures on the wall the entire image was somewhat like staying at your grandma's.
The lounge/diner of the property fared no better and with mismatched furniture, cheap laminate flooring and a veritable plethora of (7) posies of fake flowers dotted around the property, (including a Christmas tree in September), it reminded me of how I imagine the manager's apartment of an old folks home might appear.
The cottage "Tolkien" also had another small bedroom containing a bunk-bed a small dark kitchen and a modest bathroom.  The kitchen was illuminated by a single fluorescent candle lamp in a shrouded shade which made it extremely dark.  All I needed was a Davy lamp and a canary to complete the coal mine look.
The property has access to a small private garden which I can imagine is very useful when travelling with kids or for moments when the weather permits you to sit outside.
Lacking an obvious workstation I had to move the dining table to the centre of the lounge area and use an uncomfortable folding wooden chair, another indicator of the property's unsuitability for business use.
WiFi was just about useable, with 2.05 mbps (WiFi Chart), and that was only "as good" because the router was located in my apartment, others may not manage to enjoy such "rapid speed"?  The TV signal was almost as good as the Wi-Fi with the screen freezing on occasion, (see below).
The bathroom was okay but with an extractor fan louder than Discovery leaving Kennedy Space Centre and with bath towels more like hand towels, it was hardly a sumptuous place in which to relax.  The only thing that I know of to be louder than the extractor fan was the electric fire in the lounge which made the bathroom fan whisper quiet by comparison.  Luckily I didn't really need to use the fire but if I were staying in a colder month it would have been unusably loud.  I guess it could always have been used to drown the noise from any screaming babies, should that be necessary.
Hospitality was non-existent there were about five teabags and smidgen of washing up liquid and nothing else.  When I have stayed in similar places elsewhere I have been greeted with little hampers of locally sourced or home-made produce to act as a welcome.
At £85 per night (room only), this was proving to be an expensive mistake.  During my three night stay I had to make two 10 mile round trips to the nearest shop, so if you decide to stay you may wish to be more prepared than I clearly was.
Being located in a sleepy village there were no issues with road noise and at night it was noticeably quiet.  To be fair after three days of isolation in my cottage, I was thinking that I would probably have been better off in a hotel after all.