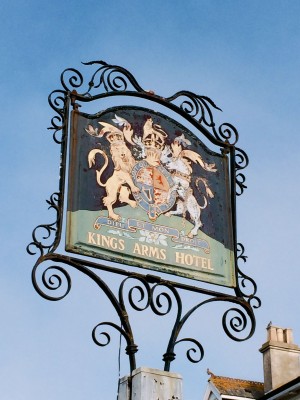 I booked a hotel in Christchurch as I was working in both Southampton and Poole, and Christchurch is almost half way between both.  This meant I could book one hotel for 3 nights, rather than need two hotels, and avoid all that entails when having to move from one to another.
A priority for me during any hotel stay is to have some decent WiFi.  When discussing this with the receptionist at the time of booking, she advised me to book a 'Queen room' on the middle floor, in which I'd be assured of a robust signal.  The less expensive alternative 'Loft rooms' are some £15.00 per night cheaper, but she could not guarantee I'd get a satisfactory WiFi service.  This was either good advice from a well-informed receptionist, or a good technique with which to up-sell rooms.
Upon arrival, I needed a moment to decide if I'd actually arrived at the correct hotel.  It wouldn't be the first time I had assured a stunned receptionist that I did actually have a booking, only to discover it was for a similarly named establishment "just down the road"!  My double-take, was due to some confusing branding.  I had booked "The King's Arms Hotel", I arrived at "The King's", and once I had obtained my key card, it displayed "Harbour Hotels & Spa" – all a little disjointed.
Accompanied by a colleague much less travelled, we were quite efficiently checked in to our rooms, (both Queen rooms on the same middle floor).  I wasn't too keen when asked to leave my car key at reception, which is routinely done, as the tiny car park is woefully unsuitable for the size of the hotel.  If you're lucky enough to get on it, you'll be double parked and free access to your vehicle will then be impossible.  This 'feature' is a work-around to what I can only imagine is a self-made problem, and one that will easily snooker those wishing to leave the hotel early in the morning, (especially when the driver(s) has forgotten to leave the key(s)), like I did on arrival on the second day.
Passing the rail of guests' coats, freely accessible by all, I made my way up the stairs, the carpet of which was not thoroughly vacuumed.  With no signage to rooms, my colleague and I played a game of cat and mouse attempting to locate the bedrooms we had been allocated.
In room 202, I was immediately greeted by a used sticking plaster on the badly stained carpet, hardly a good first impression.  My mood dropped further when I clocked the adjoining door.  I hate adjoining doors.  From bitter previous experience, I can conclude they are nothing but trouble.
Having not yet removed my tie, I headed optimistically back down to reception, with my bags, hoping to be allocated a different room, without the dreaded  adjoining door.  Over the years, I have come to realise that the removal of my tie is directly linked to the probability of me staying in that room, or sometimes that hotel even.  I guess it's one less thing to have to carry back to reception and it now serves to represent a degree of contentment when it finally comes off.
Looking past the immediate issues, I was struggling to see where the value for money, I was expecting, was hiding.  It wasn't the largest hotel room in the world, and I have often stayed in smaller, but taken in context with the £114.50 price tag, it was doing a good job of evading me.  Maybe the lone small plastic bottle of mineral water represented the 50p, but the other £114 was simply nowhere to be found.
At reception, as the penny was beginning to drop that all but one (unavailable), room on that floor had adjoining doors.  I broached the possibility of needing to check out after one night, and not the three I had booked, as I was feeling overcharged.  The King's Arms was easily punching a good £20 – £30 above its weight, (per night x 3 nights x 2 rooms), and a move could save nearly £200.
Citing the fact that "we are a 20 bedroom boutique hotel", (with about 10 parking spaces), and their robust 48 hour cancellation policy, we were going to be charged £458 if we left that night!  Wishing to avoid what was inevitably going to be an ugly and time-consuming Mexican stand-off, I decided to return to my room, and put up and shut up.
Any hotel that quotes such cancellation policies, is clearly not geared for the business traveller.  From what I can gather, the King's Arms is a wedding factory and can therefore expect to fill most, if not all of the rooms with guests of the wedding, and consequently prices are more easily stretched.
The bathroom was large and on the face of it tastefully presented.  However, on closer inspection, it was far from meeting the demands of the boutique badge, price tag or even the briefest of cleanliness inspections.  Prompted largely by the aforementioned sticking plaster, I was dubious of the mood lighting and coloured floor tiles, dubious and keen to test how well presented my room really was.
As a rule of thumb, (being an anvil non-DIYer), if I feel I could have done the grouting or siliconing in a bathroom better than has been offered, then it must be shockingly poor.  The vertical tiling against one wall was so poor, I reckon I could have done it better blindfolded.
Using the little torch on my mobile, I visually swept the floor and was not surprised to discover a few hairs.  What I was surprised to find though, was one of the least boutique-like surprises known to man.  Nestled into the corner of the room was a collection of hairs.  I can only imagine they were human, but due to the sheer quantity and variety of them, my mind began drifting as to how on earth they had all come to rest in my top dollar bathroom.  Following an attempt to wipe them away with a handful of damp tissue, I began to formulate a theory.
The attempt to wipe them away failed.  It was unsuccessful, due to the numerous hairs, long and wavy and those of the short and curly variety too, being congealed  in a small pool of unidentified slimy fluid.  This was not a hank or a wisp of hair, this was definitely more of a tod.  Yes, a tod of hair collected in a dollop of slimy fluid.
It's possible, these hairs were not from just the previous guest(s) who stayed in room 202, but much like neolithic insects, have become encapsulated, fossilised in tree resin over time and in fact represent the discarded bodily hair of a host of beasts to have previously inhabited room 202.  They have evaded discovery by scores of housekeepers over millennia and I guess my find therefore, is on a par, surpassed only by the colossal peat bog recently discovered in the Democratic Republic of Congo.
Moving my now heightened inspection gaze into the bedroom, more hairs were to become alarmingly evident.  I think I might have watched too many episodes of "4 In a Bed", because I never used to look under the bed sheet during my room inspection.  Well, I'm glad I did, because there were almost as many, (thankfully not trapped in a pool of slimy unidentified fluid), as there were in the bathroom mucilage, but enough to prompt a trip to the phone.  I asked for "someone to come to my room" and when quizzed as to whom I might like to come, I responded flippantly with, "…a cleaner would be a good start".
Without delay, akin to an episode of Mr. Benn, the catering manager appeared, and was suitably horrified to be shown the specific areas of concern.  He assured me that he would personally resolve these unsatisfactory boutique characteristics, for which I have clearly not paid.  He invited me to the bar, where he arranged for me to enjoy a complimentary drink, whilst I wait for the room to be cleaned.  Wishing to keep my options open, I selected a cup of tea as a non-alcoholic option.  (Remember, I was still sporting my tie at this stage)!
About 25 minutes later, nudging 60 since I first arrived, the catering manager and I returned to the room.  He explained how "this" and "that" had been done, and he was very sincere and apologetic.  Unfortunately, having lost the will to live many minutes and many trips up and down the stairs earlier, I just accepted his apologies and as the door closed behind him, I ripped the tie from around my neck, and just about managed to resist the temptation to use it to dangle from.
On a positive note, (1500 characters into this review..), the WiFi was actually pretty good.  My speedtests returned an average of 6.79 download and 0.86 upload (mbps).  It was also easy to log on to, without the need to give a plethora of personal information or to continually re-log in, every few minutes.  Also, the towels were clean, large and fluffy, towel-adjectives I'm happy to use for something that's going anywhere near my face.  Now clean, I'm also pleased to report that the bed and pillows were really comfortable and boutique-like.
The fancy (but sadly dated, since Apple launched the Lightning cable), clock / docking station unit, could be a nice touch – if only I had a phone old enough to be compatible, or for the time to be set correctly, for the feature to be truly functional.
The next morning, at 6.00 am, I was woken by the "glass bottles being tipped into an empty skip trick" and at 6.55 am, the elderly couple in the room next door were woken by my phone alarm.  The phone was on the desk, being charged overnight and was closer to the adjoining door, than it was to my pillow.  I'd be surprised if they actually got any sleep, as I'm guilty of snoring like a warthog being drowned in  a pool of custard.  These adjoining door problems work both ways you see.  Tip-toeing around the room, trying to avoid the creaking floorboards and trying to fart quietly enough not to further disturb my neighbours, and in a pathetic attempt for them to be unable to identify me at breakfast, that morning was reminiscent of sneaking across an old girlfriend's parents' landing, with all of the danger, but  none of the reward!  Anyway – as if anyone can identify anyone from a fart?! What was I thinking?
I hate to think what my colleague's neighbours were thinking, as he performed his fabled '7 minute workout', which he claims to be a high intensity exercise regime of only 7 minutes, but with results comparable to workouts of much longer duration.  I'm guessing the resulting noise next door would sound much like that of a female rhino attempting to protect her young from a rogue bull elephant?
At breakfast, I was a little alarmed to see the same chap that vigorously cleaned my pube-infested bathroom floor, wearing the SAME shirt, as he invited me into the breakfast room and enquired what I might like him to serve.  As it happened, largely due to the skin full of booze I had consumed the night before, I wasn't really in the mood for food, so I declined.  I might have had some toast, but he'd already pointed out the device I needed to operate to prepare my own toast, but this was one task too many for such an early hung-over hour!
I hate DIY toast.  Read why I hate DIY toast here.
Purely out of curiosity, I did have a little fumble through the breakfast menu, which quite refreshingly included several homely options that you don't usually see on a hotel menu.  Perhaps this was the boutiqueness oozing through?  Unfortunately, the boutiqueness was then spoilt by the quite vulgar printing of prices! Not only the printing of, but the prices themselves – both were vulgar!
Having already checked that my car wasn't blocked in by numerous guests' parked cars, I nipped to reception to retrieve my key.  The receptionist, whom I hadn't previously met, happily gave me the key when I asked for "the car key from room 202".  Now, unless I had made such an impression, that all staff already knew of me, despite not all having yet met me, she otherwise just handed over the key to my nearly new BMW, without asking for a name check, the registration number, to see my key card, or indeed any of the above!
I took the opportunity to mention we intended to check out the next morning, and not one eyelid was batted, leaving me to deduce that it depends to whom you talk, to get the answers you require.
Returning to the hotel that evening, my colleague later mentioned to me that when he returned to his room, the door was not closed properly.  It seems the housekeeper, not only can't identify and make unwanted pubes disappear, she also can't close a door behind her.  Clearly this represents a significant security risk, and whilst I would never choose to leave valuables in my room, it's not always possible to avoid.   My Rimowa suitcase cost almost £500 and there's plenty of other items of value that I wouldn't put in a safe, aftershave, shaver and clothes to name but a few.  Luckily, nothing was missing, but if it had been a room full of wedding gifts, who knows, that might have been a different story?!
Returning to my room, I happened to notice the slimy pool of head and body hair was still present, in almost exactly the same quantity, it had never been removed at all!  I mentioned this to the catering manager, who it seems may have delegated the task to someone else, and the detail was 'lost in translation'?! How this happened to be is totally unacceptable, perhaps more unacceptable than their presence in the first place?
We didn't eat in the hotel on either of the two evenings we stayed.  I was loathed to further line the pockets of the hotel, which had the muzzle of a loaded revolver, cocked and pressed hard into my temple, whilst quoting the hotel's cancellation policy verbatim.
Returning to the bar for a nightcap, we had a very nice chat with Lukasz Dwornik, who I assume is the General Manager.  We chatted mainly about wines and spirits of the world, of which the hotel has a handsome selection.
Despite the numerous awards and good local reputation, The King's Arms failed to deliver on a host of issues.  The two main issues of value for money and cleanliness, serve to guarantee that I would never return to the hotel, and I hope my detailed, honest, accurate, yet playful, review will feature heavily during the next staff training briefing.