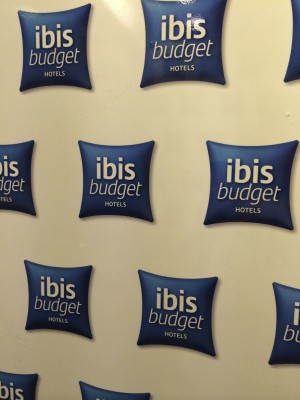 In a change to the normal standard of hotel which I am used to, I eventually found myself checking-in to the Ibis Budget hotel in Birmingham city centre.
"Eventually", because I first arrived at the wrong hotel, and then, despite the correct one being about as far away as the flick of a fag butt, it took me the best part of an hour to correct my error.
I have nothing against budget accommodation, and much like cut-price supermarkets, such low-cost options very much serve a growing market and it seems can teach the more expensive ones a thing or two. Being part of a stag party, the room was only ever going to be a place to rest my drunken head, so I opted to enjoy the £2.00 housekeeping discount, and pick my own towels up off the floor.
Many of the rooms it seems, (from discussion with my fellow stag party goers), have a bunk over a double bed – which, if pushed, is a little too battery hen-like for my preference. The warning displayed on the inside of the room's door made for interesting reading. It seems, if you are particularly raucous, (perhaps having enjoyed one too many fish bowls of brightly coloured alcoholic beverage), any refunds offered to those guests you offend, will be charged to your room! This might make your budget experience somewhat more expensive than you first imagined?!
Now, despite my room conjuring flashbacks of the last hospital bedroom I had the misfortune to occupy, (the solitary confinement was purely due to a lack of ward beds), it was clean and functional, if a little small and just a tad too clinical for my liking.
All the staff were very good and were kept busy, (even until very early in the morning), as it seems the hotel was probably running at full capacity that weekend. The downside of this being a lack of available car parking spaces, (the best alternative being "the other IBIS" into which I wrongly attempted to check into, – that short fag butt flick away). Parking is charged at £5.00 per night.
At prices for two nights being much less than I would normally pay for one, there's no doubt the hotel provides exceptional value for money. It might however, not be one that I might wish to take my wife to for a romantic getaway. If your primary consideration though is the price, then this hotel undoubtedly provides a perfectly acceptable product for your hard-earned.
Frustratingly, I was unable to log onto the hotel's free WiFi, so I can't provide an opinion on its speed, but being unable to log on speaks volumes enough! It wasn't too great a loss, as like I said earlier, the room was simply a crash-pad, in which I spent remarkably few waking hours.