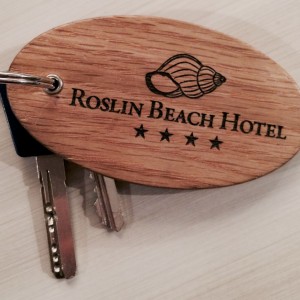 Whilst described as 'located opposite an award winning beach', is an accurate statement, the image it could conjure might ultimately disappoint when you see the beach in question. Indeed some rooms do have views over the estuary, some with small balconies too, but during my first visit in the wintry January of 2014, I couldn't even see my balcony, let alone the sea over the road!
I haggled well during my booking and was also upgraded upon arrival, unfortunately, I wasn't so lucky the second time during my September 2014 visit, presumably because September is a much busier month than January? Rooms benefit from lots of Sky / digital TV channels. They also have fridges in the rooms, but sadly these don't harbour fresh milk or a selection of mini bar drinks, bizarrely they weren't even switched on.
My room was located across the free car park in the business centre annexe, only a very short distance from the building, but far enough to become drenched in bad weather. Access to all business centre rooms is via a series of very narrow corridors, some of which are only accessed by a steep staircase. These are so narrow it's impossible to safely leave a room service tray outside your door.
Room BC3, located on the ground floor was of modest size, suitable for my solo 3 night stay, but I would argue that it would be a bit cramped for a couple sharing.  Although I'd stayed late September, with the Indian summer the room was warm, and (without air conditioning) I was forced to open the window which overlooked the car park/cycle storage area. The room I was allocated on my first stay, had air-conditioning as it was clearly a category higher last time.
Fortunately, being located on the ground floor, the window did have a security device which would prevent unwanted access, but the down-side of these circumstances meant that I was disturbed at midnight and 5.30 am when presumably members of staff returned to/left their cycles/mopeds.
Although the room was small, the bed was a decent size, had beautiful crisp white linen and was very comfortable. Other positive features of the room were the complimentary bottles of water, and a well stocked hospitality tray. There was also a wide selection of chargeable snacks, and like my previous experience these were not replenished. The most disappointing aspect of the room was the poor sound insulation from the adjoining domestic property, "domestic" being the operative word, as on two separate evenings I was more than aware of loud music and the intimate details of one almighty argument………!
The bathroom was very small with shower over the bath and had stained old sealant, the basin had a small glass shelf above but one still large enough to be a hazard. I have lost count on the number of occasions I have banged the top of my head on such shelves in hotels – I guess it's because I don't have one at home?! Bath towels were clean, large and fluffy, very nice.
The WiFi during my January 2014 visit was good. It had a robust 5 Mbps signal, with an optional upgrade to double its performance. However, despite recording some of the best ever WiFi results during my tests in September, the signal was so poor, I couldn't even stream commentary on a football match, without continual drop-outs. Hopefully this was just a one-off problem?
The dining experiences on my return visit, if I'm kind were average at best. Bearing in mind I stayed for 3 nights, and had room service on each occasion I feel the hotel had ample opportunity to impress. Unfortunately, it wasn't until I had been served a variety of dishes, including greasy Whitebait, not spicy "spicy chicken wrap", a nice (but incorrectly-cooked) steak, (with unsalted fries & no salt) and an OK burger (with pre-salted fries & salt on the tray), that I discovered the hotel's terrible hygiene rating! I must remember to check these ratings before booking my hotels, and certainly before eating in them.
The bar area was popular and lively, the wine list had a good selection, many of which were reasonably priced. However, the area was not conducive for laptop use, neither was the lounge area. From my previous visit I found the lounge area to be more of an unsupervised crèche, rather than an area in which one could work. Unfortunately the modest desk in the room also fell short of a suitable place to work, so my "Business Class" room fell short of the mark again.
What I object to is when I ask a staff member (who I've never met), for my room key and it is handed over without question. To make matters worse, I ask for one G&T at the bar and the staff are keen as mustard to obtain written proof no less of my identity – there's something inherently wrong when this happens!
Breakfast was very good. A great selection of hot and cold food was freely available. The ladies waiting on were a delight and were probably the highlight of my stay. They were even good enough to provide salted butter upon request, (I just don't do unsalted butter)!
Southend doesn't appear to be awash with hotels of this standard. Although I have been forensically detailed with the assessment of my two stays, the hotel is worth a visit. I didn't visit the Spa or Gym so can't offer any comment on either. The acid-test I guess, is if I'd like to return during my next visit to Southend, to which the answer would be yes, providing I managed to get the better class of room, as it was infinitely more comfortable than the Business Centre one.