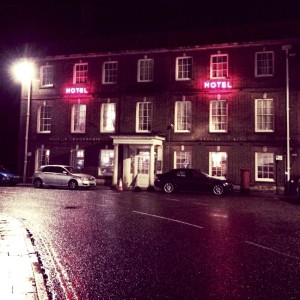 Claiming to be the oldest inn in Dorset, I'm not going to dispute it.  The Crown is certainly an old building with several generations of history under its belt.
I have stayed many, many nights in The Crown previously, mostly during 2006 – 2008 and there have been minimal changes since I was there last.  Now owned by local brewers Hall & Woodhouse, the function suite appears to be well utilised, trying hard to be a wedding factory.  Public areas are nicely done, with leather sofas in the lounge and a variety of seating in the bar and dining areas.   However, during this stay in February the public areas were cold, with the wood burner strangely only deployed on one of the three nights I was there.
Room 2 is a decent size, with feature bed and two large windows overlooking the street outside.  It was a little tired if I'm being honest, and when you look that little bit closer, it's not hard to spot the signs of age coupled with a soupçon of neglect.  Things like the carpet that looked like it was fitted by a blind man, equipped only with a blunt axe, the sun bleached curtains and chipped wash basin all being more indicators of shabby than shabby-chic.  The bathroom lacked properly maintained lighting or an extractor fan.  It had avocado coloured tiled walls and a towel rail pumping out enough heat it surely must have been nuclear powered.
The positives were the comfortable bed and bedding and complimentary large bottle of mineral water in the room.  The downsides were some moderate road noise, (despite the secondary double glazing), toilet tissue so thin it should be measured in microns not ply, and the lipstick mark on the mug that simply showed a lack of attention to detail.
On the final evening, as I was trying to watch a film in my room, the plot of my psychological thriller was almost drowned out by the chatter of my female neighbour.  I was forced to turn the tv up, to avoid hearing any more of the gory details of her take on her disappointing day or what her best friend has done to upset her.  I probably returned the favour though, as I'm told I snore like a throttled pig, as soon as my head hits the pillow.
WiFi offered was free and a handsome 5-6 mbps, which is a decent combination of factors, both unfortunately overshadowed though by the laborious and incredibly frustrating need to continually log in to the network with a random combination of characters.
On my return to the hotel on the second evening, my digital room key failed to operate the door lock, which prompted a trip to reception. Without having previously met me, the young receptionist duly reprogrammed my key, without even asking my name – a timely reminder never to leave valuables in a hotel room!  Having said that, my suitcase and its contents would cost a small fortune to replace, should that ever be necessary.
A colleague was staying in Room 5, which for comparison purposes was smaller and colder than mine.  Notably though, the main feature of the bathroom was an array of dead spiders and flies in the window, a variety that any dodgy butchers would have been proud of.  The thin venetian blinds were in desperate need of a clean, or chucking away really if the truth be known.
Breakfast was good, although I only had cereal and tea, so it's hard to fail to do that well.  However, from what I saw on others' plates, all appeared to be very good.  The continental offering remarkably included real honeycomb, which I admit I have never even seen before, let alone seen at a hotel breakfast display.
Dinner was a mixed bag.  The positives being the efficient and friendly staff and the ease of which I was able to order food not shown on the menu.  The less-so positive was my colleague's runny venison pie, which resembled more of a pastry covered venison soup.
Checkout demonstrated a little lack of training / experience, as I wasn't presented with a statement before being asked for payment, which turned out to be incorrect by the time I had the opportunity to review the charges.  Three extra rounds of drinks were on the bill, (another timely reminder to always check the bill), which were duly removed, but causing an unnecessary delay.
If The Crown was in a bigger town or small city, with alternative accommodation options, it's unlikely that I'd ever have stayed so many nights before, or be inclined to return again.  I confess my loyalty is mostly due to my laziness to explore / the hotel's location, coupled with the lack of credible alternatives.  Having said all that, the rate I paid offered reasonable value for money, so it scores a slap bang average.