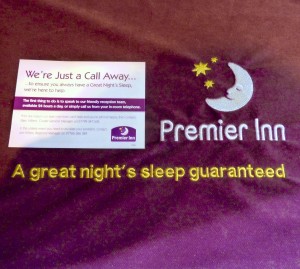 To be perfectly honest, I booked this hotel not expecting it to be very good.  I assumed that with a location right beside Heathrow Airport, it was going to be a tired cattle market-like establishment, offering cut-price basic facilities, and an ambience to boot.
Because it doesn't happen very often, I enjoy being pleasantly surprised and I'm pleased to be able to say that I was wrong to assume what I did.  Let's not forget, this chain of hotel works on high volume low margin business and there are still certain characteristics that cheapen the experience for me.  The helpful young receptionist was keen to inform me of the Sleep Guarantee they offer, which is some comfort if your experience fails to deliver.
Much like those restaurants where you have to pay for your food before you eat it, Premier Inn's policy of paying upon arrival just sends the wrong message to me.  Anyway, with prices a full £100 cheaper than the adjacent hotels and on this occasion location being my primary reason for staying there, it fitted the bill nicely.  They have a good-sized car park for which I was charged £7.00 for the one night I stayed.
As I had chosen to have breakfast this apparently qualified me to participate in a meal deal offer.  So, for £22.99 I enjoyed a two course meal, with a choice of drink, (including beers & wines), and a full buffet breakfast, which few could argue represents very good value for money.  Not just was it good value, but the food, service and ambiance of the dining room at both dinner and breakfast, were excellent.
I object paying extra for WiFi, as I regard this as nothing less than profiteering, but at £3.00 for 24 hours, the charge is a modest one.  The offer of 30 minutes free is OK for a data squirt if you're a visitor,  but you'll inevitably need to shell out for the 24 hour option.
WiFi Speedtest results from my room, were well above average with a download speed of 12.50 Mbps, which means they enter my league table well above average.  The only negative is that you can only use one device per WiFi voucher, and as I only realised this late that evening, I didn't ask for another code.
The room upon arrival was cool, which was wonderful as it was about 25 degrees outside.  Someone had thoughtfully closed the curtains to keep the sun out, and the aircon was on – good start.
From the quality and cleanliness of the bathroom, it was evident that the room had recently been refurbished.  The bathroom was faultless, simply faultless.   With a very large modern flat screen TV on the bedroom wall and a well-appointed workspace, the only thing I didn't like was the image of the chubby-faced, least funny "funny man", Lenny henry, staring back at me off the literature.
Having recently purchased a Hypnos bed for home, I was intrigued to check out the mattress, as I know Premier Inn only use Hypnos in their rooms.  The mattress appeared to have had a hard life, as the label revealed it to be over 5 years old, and the comfort it offered reflected this.
A couple of other things worthy of note, which I appreciate, are the 6.30 am start time for breakfast, and the secure access to bedroom corridors, some things that other hotels might do well to copy.
Given my last experience in a London Premier Inn, fell well below minimum standards, you may forgive me as much as I forgive Premier Inn, for my low expectations, which have served only to raise the PI bar.