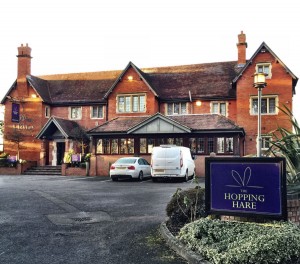 David took my telephone booking and with a nice touch refrained from repeating my credit card details back to me in case he was overheard in the busy bar. I was pleased to learn they accept American Express, as I would describe The Hopping Hare as a pub with rooms rather than a fully fledged hotel. It's a 100-year-old former Manor House, with 19 rooms, located on the outskirts of the town, providing ample free parking.
My primary choice for staying here was the price. Other options I investigated were considerably more expensive, so to get a room for a chunk under a ton a night was a draw I couldn't ignore.
I'm more than aware that some smaller types of hotel have quite restrictive cancellation policies, so the "10am day before arrival" was acceptable.
My immediate impression of the King Size double (for single occupancy) room, was that the carpet needed a good vacuuming. It had numerous and quite easily spotted bits of fluff all over, which is quite off-putting. I have started packing my slippers these days, so I don't have to walk on dirty carpets in my bare / besocked feet.
The room was a good size, which could easily have sacrificed a little more space to allow for the en suite bathroom to become a bit bigger. The bathroom was narrow and would have been an issue if I was travelling with my wife. The towel rail was faulty, and with no other heating in there, it remained freezing cold throughout my 3 night stay. It also sadly lacked any shelf space upon which to place any personal belongings, which is another oversight.
The armchair within the room was also in need of a freshen-up. I was as likely to sit and relax on it, as I was to linger in the fridge of a bathroom (no bath by the way), as it too needed a bloody good vacuum.
The bed was comfortable, but the dusty headboard served only to continue the disappointing theme of poor cleanliness. The curtains billowed as the heat from the radiator lifted them from the windowsill and notably, they too were faulty, as the stopper from one end was missing, causing them to swish to the centre as they are drawn shut.
The morning following my first night's stay I emailed to ask if my room could be vacuumed, as I forgot to mention it before I left. My email wasn't replied to or acted upon, and the fluffy floor, armchair and headboard remained so throughout my stay.
The only water in the room was the stale water left in the kettle, but snack packs of biscuits were refreshed each day. The flat screen TV seemed OK, until it was switched on, as it flickered throughout its time when tuned to ITV.
The WiFi was incredibly frustrating. My stats revealed a service fluctuating between 5 – 1 mbps, but in reality, this was insufficient to watch ITV Player without incessant buffering. Soon becoming disillusioned, I paired my Mac with my 4G phone signal but after a bit of browsing and one episode of Broadchurch on catch-up sapped 80% of my month's data allowance in a few hours!
I chose to eat in the dining room only once during my stay, and can report that the menu looked good. It had many dishes that only a privately owned establishment could offer with a tempting variety of offerings.
The highlight of my burger with triple-cooked chips was the spicy coleslaw, but I had no complaint at all with the meal. The dining room was split between a bar area and a more formal dining area, the latter being nicely decorated and moodily lit, looked very relaxing and conducive for a romantic meal.
Breakfast too, offered different choices rarely seen elsewhere. Served from 7am, it allows the business traveller to get an early start. I only had porridge for breakfast, so can't really comment further, other than to say that DIY tea, coffee and juice on the bar, was about as much as there was to help yourself from.
If you fail to return your room's electronic door key, there's a cheeky little £5.00 charge and please also check your bill, as I was overcharged £10 per night, causing me to refer to my email confirmation to ensure a refund was actioned. At the price I paid however, a February night's stay in The Hopping Hare still represented good value for money.
Unfortunately though, my lasting memory won't be of the value for money, it will be of the poor housekeeping, frustrating WiFi and lack of maintenance that blighted my stay.