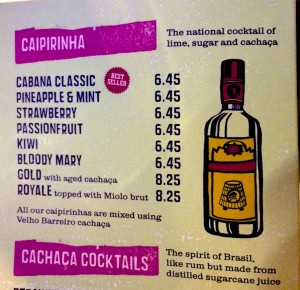 I consider myself reasonably well-travelled and not afraid to experiment, I'll never pass-up an opportunity to expand my culinary yardstick, which inevitably meant I simply couldn't ignore the draw of this Brazilian BBQ restaurant. It is located in the Designer Outlet Village, virtually in the shadow of Wembley football stadium,
Dining with a colleague, neither of us really knew what to expect, as we decided to eat here moments after (almost) passing the entrance. Warmly greeted, we were offered a choice of tables in the already well-attended, funkily-designed large restaurant.
The most notable feature of the dining room was the open kitchen, where what turned out to be beautiful cuts of delicious meat were cooked over flames in full view of the salivating diners.
The staff were exceptional from the beginning, helping us decipher some of the less-familiar items on the menu. Mostly Portugeuse-speaking staff provided a very authentic flavour to the experience, which served only to get better as the evening passed. Each of the girls that looked after us were professional, attentive, friendly and to be frank, proved to be what will be the lasting memory of my visit here.
The caipirinhas we ordered started the Brazilian exploration, which were exceptionally tasty, fruit-flavoured, crushed ice-filled, distilled sugar cane-laced glasses of loveliness. However at £6.45 each, we couldn't get carried away and have too many more!
We began with a portion of corn chips and guacamole, which were a little pricey at £3.95 for what they were, but were tasty never the less. We followed that up with a sharing starter of what was essentially a selection of deep-fried cheeses, with a tasty mayonnaise based dip.
I find it difficult to visit an Italian restaurant and not have pizza or pasta, or a Chinese restaurant and not have crispy duck, so in much the same vein, when visiting a 'carnivorous' Brazilian BBQ restaurant, how could either of us ignore the rib eye steak?
Somewhat predictably then, we both opted for the rib eye, with a couple of side dishes. During the relatively short wait for our dead cows to arrive, we were both in agreement that if they turned up incorrectly cooked, they would be winging their way back, from whence they came. This is something that I personally, normally chose to refrain from, (when eating out with my wife), as all it serves to do is provide unnecessary aggravation and one empty plate, just as the replacement dish arrives.
As it turned out, our fears were unfounded. There was no need to worry, as both our rare and medium-rare steaks arrived perfectly cooked. They were served from the metal skewers on which they were flame-grilled, straight onto our plates, right before our very eyes. We agreed they were quite simply excellent cuts of meat, very nicely cooked, worthy of the £16.95 price tag.
Instead of coffee or desserts, we opted for another round of authentic fruit and sugar cane based leg-wobblers, afterwards, and quite unexpectedly these were eclipsed by a couple of complimentary rocket-propelled Cachacas. If your time machine is ever in need of some fuel, then look no further than a thimble sized serving of passion fruit flavoured Cachacas – they'll be sure to hit the spot.
With a bottle of wine, (which was reasonably priced, but from a limited list), all the other booze, and the food as described, it was hardly a surprise that our school night dining experiment came in just over the hundred quid mark!
This was a great experience, which was quite unexpected, topped by some great staff who made the trip equally memorable and enjoyable. First class, thanks.