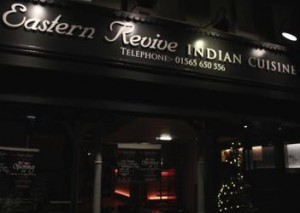 Eastern Revive Indian restaurant is a modern and beautifully styled eatery in the Cheshire dining hot-spot of Knutsford.
This historic market town is well-known for its abundance of quality restaurants and sophisticated night life, any new player in town must hit the ground running to quickly establish itself as a credible option for the discerning diners.  I visited here back in January 2014, not long after it opened.
If your Knutsford restaurant isn't rocking at 8pm on a Friday night, it won't be long before it'll be relaunched as a coffee shop or boutique. Eastern Revive appear to have little to worry about, as when our party of 16 arrived, the only spare seats were the ones we had booked.
Unfortunately, the layout of our reserved seats was completely inappropriate, given that we were offered one table for 10 and another set for 6, hardly conducive for a work retirement gathering. The first 10 minutes were therefore spent rearranging the furniture, with little involvement from the staff, who I think were mostly looking on in a mild state of disbelief of what was unfolding before them.
Other than the staff being a little slow out of the blocks watching our feng shui OCD play out before them, the service was excellent throughout. Large parties often prove difficult to satisfy but every single diner was served without a single issue.
With a lovely styled restaurant and great service, only the quality of the food and value for money could possibly have "spoiled the party". Well Eastern Revive scored a full house on all counts, as the food was not only good, it was truly exceptional. I couldn't begin to estimate how many Indian restaurants I have eaten in during my time on this earth, but without wishing to sound overly gushingly complimentary, I rank the quality of the dishes I enjoyed, to be right up there with the best Indian food I have ever tried, if not "THE" best?! My fellow diners also reported their meals to be superb which will guarantee I'm sure to book a table in good time, when I decide to return.
Complimentary cakes were presented to mark the occasion, with sparkling decorations, a final welcome touch to an already exceptional experience. Knutsford's King Street will have to find an alternative address from which to launch another shoe or coffee shop. First class!