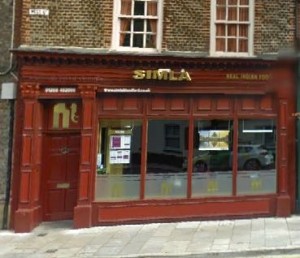 Simla is an Indian restaurant in the provincial market town of Blandford Forum. On the wet Wednesday evening in February that I visited with a work colleague, it appeared to be more popular with take-away clients, than diners seated in the restaurant.
Swiftly greeted and seated, we were soon browsing the menu, but wishing the heating was turned up a bit. It wasn't much warmer inside than the wintry weather battering the Dorset streets outside.
When a half pint of draft beer was served, after a bottle of Cobra was ordered, the waiter visibly took exception to me asking for it to be exchanged – hardly a good start. Other than that the service was OK. Starters of Onion Bhaji and Chicken Puri, followed by Chicken Saslik and Lamb Tikka Massala were 'almost average'.
My bhaji was not the best, being a bit more like a rosti than a light fluffy bhaji as I have come to know them. Also the chicken was all removed from the Saslik's skillet onto my plate, rather than being placed on the table for the diner to do so. I found this a little odd. The lamb Tikka Massala was quite coconutty and some of the cuts of meat were inedible.
Unfortunately, neither of us were keen to stick around, we were rather looking forward to getting out and getting warmed up by the fire of our hotel. Value wise, £45 for 2 starters, 2 mains, one naan and one rice, washed down by a couple of pints and one small Cobra, I guess is about right. However we left feeling a little less than totally happy with the experience given the meals & atmosphere – it's not somewhere I'd suggest you must visit when in Blandford.