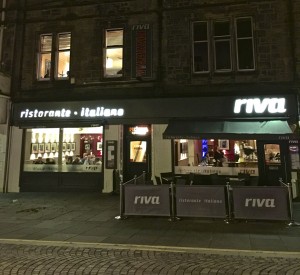 This review will be short. Much like my visit to this restaurant, which is beautifully located on the bank of The River Ness in Inverness City Centre.
A colleague and I visited on Monday night in late September, and the busy restaurant steadily filled during our short time there. It was impossible to relax and enjoy a meal, like you might expect to do in an Italian, rather it was rushed like a lunchtime cafe might be.
If service can to too quick, food arrive too quickly, and no sooner have you placed your cutlery on your empty plate, it is removed, then it is here. Efficient, I guess so, but it doesn't make for a relaxing time.
The food was average on the whole, but my Carbonara was too "claggy", made with too much cheese, it was too congealed to be a pleasure to eat. When the waiter collected my half-full plate, he enquired if I had "eaten too much already", which is hardly the approach I would expect a waiter to take, and not a very tactful one either. When I shared my thoughts with him, he scurried away very quickly, he couldn't get away fast enough, but he returned later with a throw away remark about telling the chef. It might have been better to remove it from the bill, or offer to provide a free sweet or drink from the bar perhaps, than simply to "tell the chef"?!
Unfortunately, the positives of the nicely decorated restaurant, with beautiful views of the floodlit Inverness Castle, will forever be over-ridden by the rushed service, my disappointing main course, and the disregard which the waiter displayed regarding my less than positive feedback.