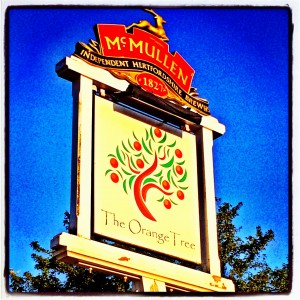 As I was staying in The Manor of Groves Hotel close-by, I booked The Orange Tree for a catch-up meal with an old friend, who lived locally.
What can now only be described as a Gastro-Pub, (which is not an insult), The Orange Tree is a very tastefully renovated old village boozer. I suspect you'll no longer see a crowd of pals at the bar, laughing raucously at a filthy joke, no more than you'll see a dart board or a game of cribbage being played, as businesses have had to evolve to survive.
None of the above is a criticism. I'm trying to illustrate what kind of establishment you might expect to encounter, should you too chose to spend an evening there, as I did in July 2014.
From what I could gather, there were only a few tables, so I expect booking ahead would be recommended. Also, from the strong local reputation and my own experience that night, there's clearly a demand for very good, very tasty, well priced food in this area.
The decor and ambience were in keeping with the country lane, village pub setting. External seating and a generous play area for the little ones ticked another couple of must-have boxes these days.
The business is clearly a family one, which if for no other reason is a good enough one to support it, as too few survive in a sea of corporate clones these days. The menu was not extensive, but was complimented by a couple of daily specials, proudly pointed out on the blackboard by our server.
Unfortunately, (for the purpose of varied a restaurant review), my guest and I shared a bread and oil platter, and also both had the same main course of Sea Bass on a sweet potato croquettes with a leek and peppercorn sauce. With a couple of local beers and a glass of NZSB, the restaurant proved it could still pull an honest pint too.
There was a fly buzzing around for the duration of our meal time, which is a little off-putting, continually wafting it away certainly detracts from the very enjoyable meal we had. Don't be fooled by the photo of the sea bass by the way. When it arrived, I thought "oh", feeling somewhat disappointed by what I thought was more style over substance, but it proved to be surprisingly hearty too. Needless to say, we both cleared our plates.
The dining room seemed to empty quite early, and we were mindful that we might be keeping everyone back, as we chatted after our meal. This wasn't a problem though, we were made to feel welcome to nurse our drinks and chat until we were ready to leave.
This little pub, which serves quality food is a little gem located in a rural village, which is well worth a visit. Here's to supporting a local family businesses, for as long as they provide good food and pleasant service at reasonable prices, well done.