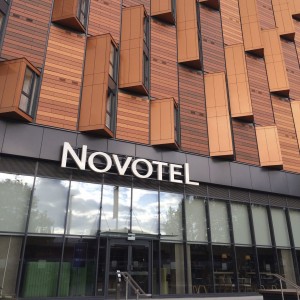 The Novotel Wembley is located virtually in the shadow of Wembley football stadium. It's a newly built contemporary hotel which was immaculately clean throughout.
Unfortunately, I was led to believe there was no private parking available, but found the NCP car park at Wembley Park Underground Station to be more than adequate. Wembley Park is even closer to the hotel than the stadium, and with parking at £5 per 24 hours, (if paid by card), it offers remarkable value for money too. The short walk in August was no issue, but I'd have to question this if it was a dark, cold and wet December evening.
I was pleasantly surprised by the exceptionally warm welcome I received upon check-in, which was as efficient as it was warm. Immediately upon approaching the hotel it's abundantly evident that this is a hotel offering a smart and professional standard.
During my 3 night stay I found all of the staff to be above average to that I normally encounter in hotels. They were all extremely warm, polite and efficient, which is a very refreshing change, full marks to everyone.
Room 723 was also immaculately clean and in keeping with the public areas also very modern and tastefully decorated. I particularly liked the small but perfectly formed bathroom, with its perfect lighting, cleanliness and walk in shower, (no bath). The only other aspect the room was lacking was a view. The narrow but room high window overlooked an internal courtyard, which was a shame, as being on the 7th floor I was hoping for a city skyline view.
With a power socket at the bedside, and a good mix of lighting options the designers had clearly earned their fee. The bed and bedding were extremely comfortable too, and although the window didn't open, the air-con was quiet and efficient.
It wasn't until the third night that I discovered the water in the little fridge was chargeable, and at £2.75 for a small bottle, I then felt a little disappointed I had used it.
OK! My number 1 pet hate is poor WiFi. Despite there being a free WiFi option, which was incredibly feeble, I chose to ignore the £9.95 upgrade for a "5 times better" service, instead choosing to utilise the lovely 4G mobile data available. Shame on you Novotel!
The modest gym offered a number of Cardio Vascular machines, but a limited number of free weights. However, it was accessible for the largest part of the day and was clean and modern too.
Breakfast was in keeping with the trend that, by now, I'm sure you've all spotted – it was well-managed by welcoming and efficient staff. It offered a very good selection of hot and cold dining options, albeit from a buffet, and was let down only by the seemingly ubiquitous DIY toast machine!
Travelling with a colleague on this occasion, we headed into the ultra-modern and very close-by designer outlet village to dine out, which we did on each of the 3 nights we stayed. Consequently other than breakfast, I can't offer my take on the food offered by the hotel, but I would like to bet it is every bit as good as everything else it provides, (except the WiFi perhaps).
Checkout was a delight too, and with the very modest bill, despite the disappointing WiFi and short walk from the car park, I'd be very much inclined to return when next in the area. Only through chatting to the receptionist did I discover the hotel has only recently opened a private car park, which is also a very short walk away, but is £15 per night.