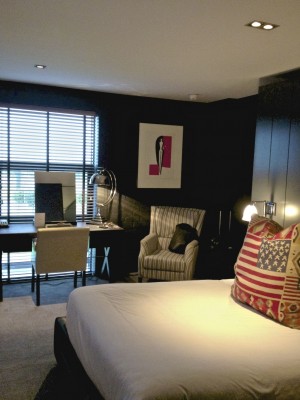 As you part the heavy curtains and enter the dimly lit reception, you'll immediately realise you've just entered the foyer of a hotel like no other.  The Dakota Eurocentral is a modern hotel conveniently located beside the A8 between Glasgow and Edinburgh.  It's approximately 15 minutes from Glasgow City centre and 50 minutes from Edinburgh City centre.  As you arrive, there's a huge free car park immediately outside the hotel, which beats much of the city centre competition!
Staying away in hotels as frequently as I do, any novelty or pleasure there ever was has long since evaporated.  However, I genuinely look forward to my next visit to The Dakota and as you read on, perhaps you'll see why?
Bedrooms, although not the largest they are impeccably clean and have really good free WiFi. With superb 18.42 mbps download speed, you'll probably be getting faster WiFi here than at home, (unless you have BT Infinity or similar).   Complimentary homemade cookies and mineral water await you in your room, as does quality air conditioning, TV and lighting.  The windows open too, so you can choose to have fresh air if you prefer not to use the aircon.  Without a bath, bathrooms are not the largest, but this is more than adequately compensated by the superb rainfall showers.  Heated mirrors to prevent them steaming and large bottles of quality toiletries are also worthy of note.
The very best features of this hotel however, are not to be found in the fixtures, fittings or spec, but those that truly determine how each visit will be remembered, which are food and service. Both are excellent!   Whether you choose to eat in the stylish bar area, the lovely restaurant or in the privacy of your own bedroom, the food is exceptionally good.  Always served hot and accurately it's no wonder the restaurant is popular with non-residents.
All staff are beautifully smart and genuinely pleasant but most importantly they also deliver. Breakfast is an absolute delight, a host of continental and freshly cooked traditional options are equally superb.  Having my travel mug filled with coffee for the journey home is a lovely touch.
OK, my wife tells me that I am overly critical, so even in what I now regard as my favourite hotel there are still some slightly less glowing observations.  The beds are not the most comfortable and I'd like a choice of pillow types, but as I normally bring my own pillow this is hardly an issue. I find the gym quite small, more of a 'fitness room' than gym to be fair, as it has little room for any more than 4 people at once. Having said that, it's more than many hotels offer and therefore much better than nothing.
With all this positive critique and glowing praise you may expect to pay handsomely for the privilege of staying here?  You'll be pleasantly surprised how very competitive the rates are, and if you stay for three consecutive nights, you can often enjoy a reduced rate. However, I believe they have recently altered their pricing structure, and the last few enquiries I have made have returned a higher rate than I have come to expect.
So, if you're reading this with any lingering doubt in your mind whether you should stay, banish those doubts, book it now and be prepared to experience quality, value and service that combine to provide a winning formula that will have you looking forward to your next visit, just as I do.