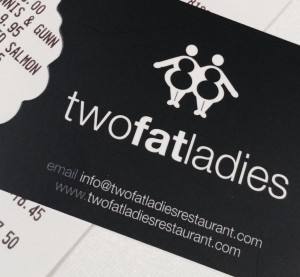 To mark a special occasion, a colleague and I decided to visit this restaurant, which has a good reputation.  When booking, I was unaware of the choice of restaurants in this very small chain of five and I feel I may not have actually booked the one I intended to.  Two Fat Ladies at The Buttery is home also to The Shandon Belles Bistro, (one of the other 4 in the group), which is located in the basement.
As the taxi approached the neighbourhood in which the restaurant is located, it seemed as thought we might be in the wrong place, but sure enough, we were duly delivered to the door.  Please don't allow me to infer that the area isn't a good one, that's not the case.  It was simply that the area was more residential than I might have imagined, and following our meal, once we walked out of the restaurant, rather than being in the hustle and bustle of the city, we found ourselves a little like a couple of fishes out of water.
The staff were beautifully presented, very attentive and respectful.  It seems, (from our short visit anyway), that the restaurant is popular with international tourists, who also appeared to be well looked after.
Other first impressions were of the tasteful tartan carpets, the beautifully crisp white linen tablecloths, impeccably clean cutlery and spotless glassware – all providing a very sound platform on which to expect equally as good offerings from the kitchen.
Slightly boringly, my (long-serving) colleague and I chose the same starters of Hot smoked, smoked & poached Scottish salmon tian, with a horseradish & lime dressing at £9.95 each.  These were delicious, light, incredibly tasty and despite the slightly pricey price tag, proved to be a wonderful introduction to the evening.
Fortunately, there were only two things that I could find fault with, and they had nothing to do with the food.  Throughout the evening, we were pestered by a pesky fly.  It wasn't a tiny little slow-flying miniature, fruit-fly type fly either, it was more of the larger, disgusting blue-bottomed variety, which manages to fly at a speed marginally quicker than the human hand can flick.  My Dad, being an east coast Scot, used to have a humourous expression for such events, (to be said with a sweet east coast Scottish accent)..
"There's a wee flee fleeing aboot mee heed" – which as I'm sure you have already figured translates as, "There is a small fly, that is flying around my head"
The other thing I wasn't that keen on, was the speed at which the wine was being served.  By that, I mean the waitresses were very keen to top up your glasses.  In some establishments, I'm sure this is a ploy to make you drink and therefore buy more wine, but I honestly don't think this was the motive on this occasion.  It might simply be that the restaurant was well staffed and the servers were short of something to do.
Back to the food.  Main courses of whole grilled lemon sole, roast almond & lemon butter and the other of mignons of scotch beef fillet, with Stornoway black pudding crush & au poivre sauce, were also both excellent.  These meals were served with a side of vegetables which was plenty enough food for us both.
For such a nice meal, in a reputable restaurant, two beers, two starters, two mains with one bottle of wine and two small malt whiskies, (to cleanse the palate), it's not unreasonable to pay a shade over £100.
Overall then, the food was well above average, but the slightly odd setting, the racy wine service and the "wee flee", I'm sorry to say devalued the visit in my opinion.   I'm confident however that should you choose to visit yourself, you'll certainly enjoy the food and once inside the restaurant, you'll not care too much about the setting outside.