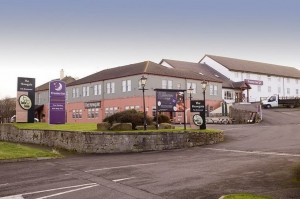 I stayed here for just one night, following my cycling trip from 'Coast to Coast,' (Whitehaven to Sunderland). Rather than rushing back home after a tough few days, a few of the other cyclists and I booked rooms so we could have a meal and a few drinks to celebrate our achievement.
Warmly and efficiently received I made my way to my room, which was perfectly clean and as standard as almost every other Premier Inn bedroom I have stayed in.  I didn't test the WiFi on this occasion, as I was with friends all night and didn't see the need to pay for a service I was never going to use.
My lasting memory of the visit though will be more attributed to the affiliated Howgate restaurant next door. The staff were great, more than willing to have a laugh, which always makes a huge difference. The restaurant is spacious and comfortable too, so it was a relaxing place to spend a few hours with friends.
Dinner that night was OK, my mixed grill was average, but given my cycling exploits that day, my appetite was willing and I could have eaten my left arm. Breakfast the next morning though was much better. However, being a buffet-style breakfast, it meant you were continually forced to and from your table, for refills of drinks for example.
The overall experience was a good one, enhanced by all the staff who were great, and at £39 (room only), the value for money is unquestionable, so I'd be sure to return. (It probably won't be to cycle C2C again though!)