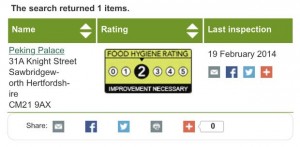 With more plastic flowers and cheap decorations than you can poke a golden waving fortune cat at, entering this Chinese restaurant is like taking a step back in time. You could be excused for thinking you had woken from a cryogenic nap, which you took in 1983. The far-from-authentic 80's music served only to support the time travel experience.
Perusing the extensive menu in the window, it eluded an authentic style, with all dishes also written in Chinese, but that is as far as I could see the authenticity extended.
Service was quick, (a little too quick if you're after a relaxing meal). I felt my colleague and I were a tad rushed, especially when only one of us was still eating. It was as if the prowling waiter/waitress was about to pounce on your plate as soon as you had swallowed your last morsel.
Our starters of Aromatic crispy Duck and Peking Spare Ribs were just passable. My duck was dry and arrived at the table pre-shredded. I suspect it may have been prepared some time before I even ordered it?
A little unadventurously, my colleague and I almost ordered the same main courses, as we chose the Deep Fried Shredded Chicken & Deep Fried Shredded Beef, (both with Chilli). Neither were (spicy) hot, as described on the menu, and between us, we deduced that if we performed a blind taste test, the only difference we could detect between the beef and the chicken, would be that of the two, the beef was a little more chewy!
Side dishes of Indonesian Fried Rice and Fried Soft Noodles Singapore Style were also both a little disappointing. The heat referred to on the menu, (describing the rice), was again sadly lacking and the noodles, although certainly edible, were somewhat overpriced at £5.50.
On the whole, the value for money experienced would have been OK, if only we had really enjoyed our meals / experience. The lasting memory though, of my visit to The Peking Palace, will not be of the time travel journey even Dr Who would have been proud of, not the slightly below average food, or the rushed service, but it will be of my facial expression of later discovering their Food Standards Agency, Food Hygiene Rating!