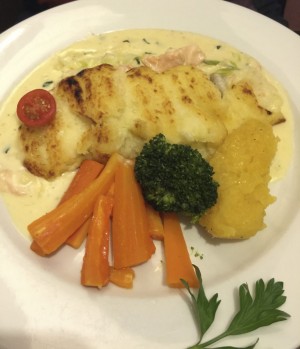 This unassuming restaurant came highly recommended by some locals at the place I was working. It was sold to me as a "pile it high, good quality, home cooking" kind of place.
Arriving early on a Thursday evening there was only one other table in the small dining room that was taken. Access to the restaurant is via a staircase, from a door immediately off the street. It doesn't have the best kerb appeal, and once upstairs, it's a little like eating in a small function room – a spacious restaurant, with views of the city it is not.
Service was efficient and very friendly, two young female staff were quite competently looking after, what very quickly turned out to be a small, but very busy restaurant.
The menu offered a decent enough selection of meals, most of which I would have been happy to select. Similarly, there was plenty of choice on the wine list too, with many of the standard offerings present.
The food arrived with little delay, and both starters and mains were clearly freshly prepared and piping hot. The Stornoway Black Pudding starter may have had a little too much salad leaf for my liking, but it's better to get too much and chose to leave what you prefer not to eat, than not to have enough. I hope my wife's not reading this!
My main course of chicken fillet on haggis was hot and indeed hearty, so much so, that I left many of the large and crispy chunky chips. The chicken wasn't the greatest on either the eye or the palette, as it wasn't the prettiest chicken fillet nor the tastiest, but I ate it all the same.
Declining a sweet, but with a couple of beers, a bottle of nice wine and one coffee, the bill was a respectful value. It reminded me of the type of food a successful pub would be serving, but with prices a tad higher than a pub, and lacking the atmosphere of one too. My colleague and I were happy to leave a tip to thank the girls for looking after us.
I'd happily return, despite my reservations about the ambience, but it's not somewhere I'd want to take my wife for a romantic meal, as the setting is just missing something.