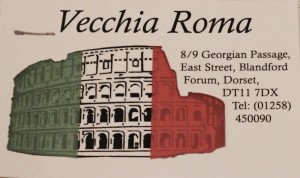 If being served pizza and pasta in a room that resembles your Nan's empty parlour by a couple of locals classifies as a trip to an authentic Italian restaurant, then a trip to Vecchia Roma is a must.
I have eaten in more atmospheric roadside cafés than this place. So a February weeknight might not be the busiest time for any restaurant, but to be the only guests dining there all evening is a first for me. On arrival, it was more like "Restaurant for two please" than "table for two"!  Despite being the only two guests there that evening, the service wasn't all that good – I can only imagine it would be awful if the place ever fills up?!
Perhaps my colleague and I were just unlucky to be the sole diners that night, as the food was OK actually. OK is hardly a helpful adjective when describing the quality of the offerings, but even if it was the best Italian meal I had ever eaten, the surroundings and atmosphere would have tarnished the occasion.
Starters of Whitebait and Prawns and main courses of Risotto and Carbonara were all consumed without hesitation, as too were a number of packets of ubiquitous broken bread sticks. The wine seemed pricey, based on what we paid for what we got, and was served in small goblets you might get free from a supermarket glass loan.
Vecchia Roma couldn't be less "authentic Italian" if it tried. I won't be hurrying back there anytime soon and despite being VAT registered, yet being unable to offer a VAT receipt, my accountant won't want me to either.