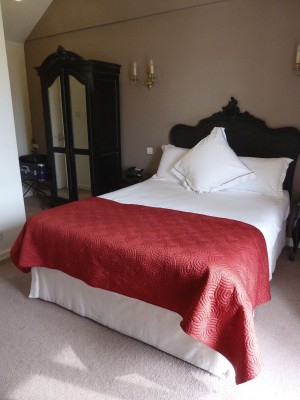 From the research I did prior to booking Diglis House Hotel, it seems there's not that many decent hotels to be had in Worcester. Diglis House proved to be OK, but certainly had room for some small but crucial improvements. At the time of booking there were only Superior rooms available, so paying a little more than I normally might, I was hoping for something that little bit special.
Interestingly, (and unusually), when I booked the room, I was never asked for credit card details to guarantee the booking. The cancellation policy by the way is "no fee if cancelled before 2pm day prior to arrival.
Following the check-in process I was escorted to my room, and simultaneously given a brief tour of the dining/relaxing/drinking areas available to me throughout my stay. I always appreciate the time taken to escort me to my room, as despite the fact it only takes a few short minutes, it not only (obviously) shows you the way to your room, but it adds a personal touch absent in most hotels, whilst also providing an opportunity to be fed/obtain information about the hotel you might otherwise not get the opportunity to.
Room 15, located across the garden, to the annexe, offered a mixture of new and old. The door, finished in matt white paint, displayed the scars of use unbecoming of a hotel at the price point I knew it to be. In other words, it looked more like to door to the cleaner's cupboard than my superior room.
I'm sure many guests would rave about the patio style doors, opening onto the grassy banks of the River Severn. Given that I stayed in July 2014 and the weather was warm and dry, conditions were as good as they could be to utilise this main feature of the room. Practically however, the weather offers few opportunities to venture out so they will seldom be used.
With more than just a few scuffs on the walls, a miniature TV and some chintzy crockery, I thought I had taken a short trip back to the 1990s. The bathroom appeared to have been modernised recently though, and tastefully too. The only issues in there being the lack of a constant hot water supply in the shower, and my failure to remember the sink's tap desire to shower your groin with water each and every time you operate it.
One morning, at 4:40 am, the loudest fire alarm known to man began to sound. As disruptive as they are, I never regard false alarm fire alarms as annoying. The alarms are there to hopefully prevent you from being silently smothered to death by toxic fumes, so as frustrating as they are, I'll never hold them against an establishment. However, experience has taught me not to jump out of bed, begin to get dressed and scrape together your most valuable of possessions, as soon as you hear the alarm. Especially, if you are located on the ground floor, (with patio doors leading to a massive river), or the drop from the first floor is something you might do for a dare anyway, you can almost wait until the smoke begins to waft under your door, before any knee-jerk response is necessary.
Being unable to remain in bed any longer, waiting for the waft of smoke to appear, I had to evacuate my room, before my ears began to bleed, as like I mentioned earlier, the fire alarm could probably kill more guests due to its volume, from inducing a variety of shock related incidents, than it is intended to save!
What I do expect to see though, regardless of the time, the number of pyjama wearing guests, the number of fire engines on scene, or the presence or absence of smoke or flames engulfing the building, is some members of staff, assisting the panic-stricken guests to a safe point. Not at Diglis House though – there wasn't a single member of staff to be seen. The alarm stopped, and my sleep-walking, ear-bleeding fellow guests were free to assume it was now ok to return to our rooms, without once being ushered to the safety of the muster point, or the comfort of our beds!
Throughout my stay the room was warm and bereft of any air-conditioning or complimentary bottled water. Being on the ground floor, it was hardly ideal to sleep with the french door ajar, and there wasn't even a fan available to at least keep the muggy air moving.
Requesting room service food that was not on the menu, I was pleased that my request was accepted without question. The bacon sandwich took a while to arrive, but was good. The wine which accompanied it wasn't the wine I ordered and it arrived in a cooler stuffed with ice, rather than the ice bucket I requested. I guess one out of three 'aint bad? I didn't appreciate the £2.00 loyalty tax, (tray charge), to deliver the room service though – quite unnecessary I feel.
Breakfast was served in the conservatory restaurant, which I doubles-up as the evening restaurant. Whilst the environment was fine for breakfast, unless they used tablecloths and softened it up a bit – I think it wouldn't win any prizes for its romantic nature, despite it overlooking the River Severn. I didn't appreciate the DIY toast, but then I never do. Also, the jams / marmalade were open to the elements, which I find a little unhygienic.
On a very positive note, the WiFi was sensational! My speed test results averages, showed a very handsome speed of 22.47 mbps, which coupled with the fact it was free, easy to use, and very reliable, made it as good as it gets in terms of hotel WiFi.  Whilst there's no onsite gym, hotel guests have complimentary use of a nearby gym, which is useful to know.
Disappointingly, I wasn't asked how I enjoyed my stay when I checked out the next morning, which I find incredulous – what better customer feedback can you hope for, than the immediate words from a departing guest?!
Had I been asked, as I have described in this review, I'd have paraphrased: "Great WiFi, but lacking in a few other areas". Would I return? The answer is "probably yes, but I'd want to pay a rate more in keeping with the offerings".