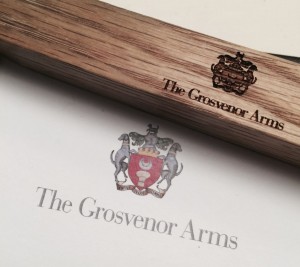 I booked The Grosvenor Arms at very short notice.  I actually booked it the morning of the day I intended to stay.  As a bit of a control freak and as spontaneity features well down my list of natural personal characteristics, it's not the way I prefer to operate.  However, I couldn't get out of the Kings Arms Hotel In Christchurch soon enough, (read that review here), and I was looking forward to a change of scenery.
Given the immediate nature of my enquiry, I was able to secure a Superior room, with breakfast included, for less than the going rate.  However, if you book with any greater lead-time than myself, please familiarise yourself with the "dodgy" cancellation policy – it's hardly conducive to business travellers.
Be aware, the hotel doesn't actually have its own car park, but there are free on-street options (from 6 pm – 8 am), and they also provide free off-street parking in a private car park very close by.
I was very efficiently checked in by a charming young lady, who took the time to show me to my room also, which I always appreciate.
My room, (No. 2 – always raises a juvenile smile that), was large and very clean.  It was sparsely furnished but with quality items, including two stylish and expensive looking leather chairs.  Speaking of Number 2's, there was a 'welcome brownie' awaiting me, which usually conjures images of a rogue floater, but on this occasion was a morsel of chocolate heaven as delicious as it was tempting.  A trendy Bosch cartridge coffee machine, with an ample selection of coffee varieties was another indication of an above average offering to that of my usual corporate, plastic palace.
The big bed with beautifully clean crisp white cotton sheets was really comfortable.  Towels in the bathroom were equally as large and luxurious and were plentiful too.  The bathroom was a decent size, and despite the floor to ceiling window being frosted, I felt the need to draw the blind before prancing about de-robed!  It was beautifully clean too, which just goes to show, cleanliness is not impossible to achieve – take note The Kings Arms!
The WiFi in the room was far from robust, tending to come and go somewhat, but luckily, as I was travelling with a colleague I spent most of the evening out, so didn't spend much time in the room.  It actually came in at a weedy 2.70 Mbps, barely enough to watch BT Sport on your laptop.
Features of the room that were slightly less pleasing, were that the TV was small.  It didn't really fit in keeping with the size of the room, much like the polar opposite of having a chav-like 50" plazma in a small council house front room.   A couple of light fittings didn't work and it was impossible to close the door without slamming it, which I don't like to do, especially when leaving for an early breakfast.
It is evident that some considerable cash has been invested into the hotel, I understand quite recently too, following a change of ownership.  Their design consultants have done a good job.  The hotel now provides numerous and stylish drinking and dining areas and options.
The staff I met during my stay were young, stylish and well equipped to look after the guests' needs.  They may have appeared to be more at home serving behind the till of Abercrombie & Fitch or Jack Wills, but all that I met were charming and efficient, despite their dashing good looks.
The bar offered a comprehensive variety of drinks and I chatted freely with a couple of locals who clearly pop in on a regular basis to enjoy a drink or two on occasion.  Unusually though, the bar closes at 11 pm, which meant an enforced early bed time for me, when I could have been sipping on a delicious Islay malt in the comfortable bar.
Other than a lovely breakfast, I didn't eat in the hotel, so can't comment further.  I did manage to check out the wine list though, which I find an invaluable yardstick by which to measure a hotel's pricing policy.  My preferred tipple is a cheeky New Zealand Sauvignon Blanc, chilled to within an inch of its life.  In any hotel or restaurant, a decent NZSB should be no moe than £22 – £24.  When establishments charge more than that, I know they're over-egging the pudding.  The least expensive NZSB available at The Grosvenor was £27, which I guess puts them a good 18% dearer than "the norm".
On a parting note, for those of you who have a few minutes to kill, the famous Gold Hill is no more than a moments stroll from the front door of the hotel.  Gold Hill, is the very steep, cobbled hill, lined with tiny thatched, terraced cottages, to which the breadbasketed cycling Hovis Bread delivery boy was visiting, in the advert from the 1970's.  Worth a visit if only to say, "I've been there", next time you see it on a retro advert Christmas TV Show.
I was delighted to visit the Grosvenor Arms and would happily return when I next have cause to visit the area.  However, I wouldn't pay the standard room rate, agree to their restrictive cancellation policy or drink their pricey NZSB!